Sierra Pacific West, Inc. – Southern California General Contractor
SIERRA PACIFIC WEST, INC.
Building Tomorrow's Future, Today
We are accepting applications!  Information on how to apply is on the right.
Sierra Pacific West, Inc. is a general engineering contracting firm based in Vista, (San Diego County), California. We have successfully completed a variety of military, commercial, industrial and public works projects throughout Southern California – further solidifying our expertise in heavy highway, roadway, public school, memorial, community parks and agency related work in a comprehensive range of types and sizes.
Providing services as both a Subcontractor and General Contractor, Sierra Pacific West, Inc. makes all its resources readily available to enhance and improve the close and cooperative relationship between the General Contractor and the Subcontractor – which increases the favorable outcome of timely project completion within defined budgetary constraints.
From site preparation, soil stabilization and the building of retaining walls, to the landfill disposal of broken concrete and other demolition waste, Sierra Pacific West, Inc. has the expertise to manage a project, from beginning to end. "Building Tomorrow's Future, Today". 
Sierra Pacific West, Inc.
is now
 accepting applications for
Project Managers, Superintendents, F
oremen

, O

perators

, G

rade Checkers,

 M

echanics

, and O

wner-Operator Truck Pullers
.  If interested in applying for any of these positions, click on the position above to download our application.   If you are unable to download an application, please call 
760-599-0755
to ask for one. Completed applications or a request for an application may be sent to to:
reception@sierrapacificwest.com
.
Let's start Building Tomorrow's Future, Today!
At Sierra Pacific West, Inc., our primary responsibility is the safety of our workers as well as anyone who may come to any one of our job sites. Our employees are trained and educated on the latest safety protocols.
Read more.
.
As one of Southern California's largest general engineering contracting firms, we are thankful for the industry recognition and opportunities we have had to create award winning projects throughout the years.
Read more.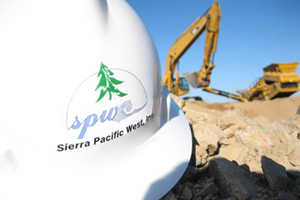 Keep up with all of the latest Sierra Pacific West, Inc. news – whether we are performing the demolition and debris removal for a wastewater treatment plant or donating our time to someone in need.
Read more.